At the green week in Berlin anOtherArchitect, TDI and a Yaroslavl based farm cooperative (former Russian Kolhoz) signed a contract for the strategic development of a 8.000ha large site at the Golden Ring. The aim of the project is to develop the site into the leading sustainable diary farm in Russia. The contract was signed at the office of the Russian ministry of agriculture of the "Grüne Woche".
The project will be part of the Russian Urban Studies a joint project of anOtherArchitect and the Territory Development Institute. In the context of a growing world population and the rise of mega cities the sustainable development of agricultural sites in order to ensure the food security is an important task.
The study will be released as RUS 5 (Russian Urban Studies).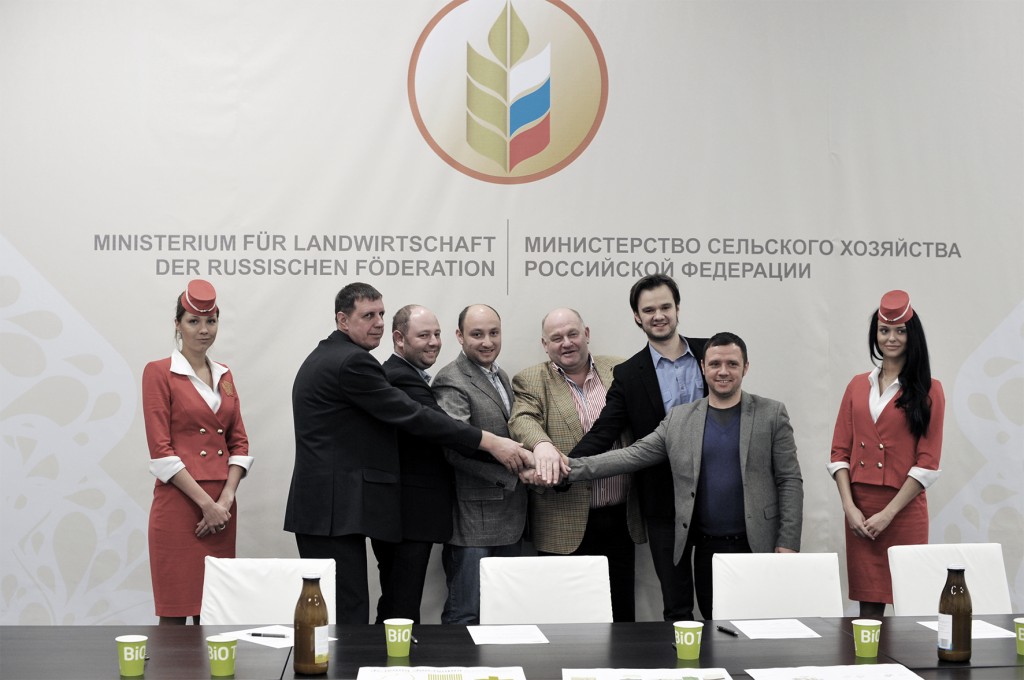 RUSSIAN
В рамках «Зеленой недели – 2013» в Берлине было подписано четырехстороннее соглашение о сотрудничестве в 2013 году между ОАО «Племзавод им. Дзержинского» (Ярославская область), ЗАО «Юридическое агентство «ВИП-консалтинг» (Ярославль), ЗАО «Институт развития территорий» (Москва) и бюро anOtherArchitect (Берлин) по реализации "Проекта комплексного освоения территории Племзавода им. Дзержинского" Ярославской области. В рамках соглашения планируется создать мастер-план ключевых поселений племзавода и проект экспериментальной фермы, сформировать инвестиционный пакет проекта, а также разработать бренд линейки местных молочных продуктов.
В течение 2012 года международная команда экспертов и проектировщиков под управлением TDI (Москва) и anOtherArchitect (Берлин) разрабатывала стратегию развития "Племзавода им Дзержинского" – одного из ведущих производителей молока в Ярославском регионе, расположенном на участке в 8 000 гектар, в 20 км к юго-востоку от Ярославля. Задача команды – раскрыть потенциал данной территории, изучить ее урбанистические, экономические и социальные особенности и создать концепцию нового устойчивого поселения – Агропарка, основанного на инновационном мировом опыте в сфере сельского хозяйства, поддержанного сопутствующими агро-бизнесами – туризмом, образованием, спортом. Проектная команда предполагает, что в работе над такой значительной территорией нужно использовать принцип High brain – Low tech, то есть использовать наиболее передовые экологические подходы с минимальным вмешательством в среду, а также поддерживать уже существующие точки экономического роста.